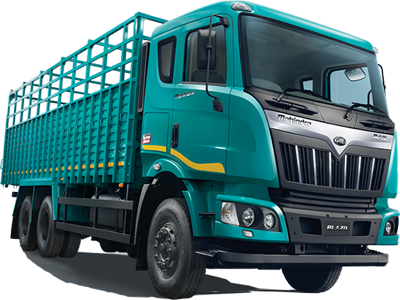 Mahindra Blazo 25-T
The high performance Blazo 25-T comes packed with comfort, reliability and efficiency for an excellent driving experience. Powered by the m-POWER engine, this vehicle boasts of a maximum speed of 85 kmph, gradeability of 29% and unmatched fuel efficiency. A strong chassis, reliable S-cam airbrakes and a real leaf suspension with shock absorbers make this vehicle extremely sturdy and reliable. Also, it has been fitted with many thoughtful comforts and conveniences to make it a cosy home-away-from-home for drivers and co-drivers. The Blazo 25-T is also available in the Long Wheel Base (LWB) version.
Mahindra Blazo 31-T
The Mahindra Blazo 31 is a champ when it comes to great mileage. That's because at its core is the highly fuel-efficient m-POWER 170 engine. Moreover, this 31-tonner is strong, reliable and very comfortable for drivers. Its chassis, suspension and driveline have been built stronger. While its oil change interval is higher. Giving you a trucking performance like never before.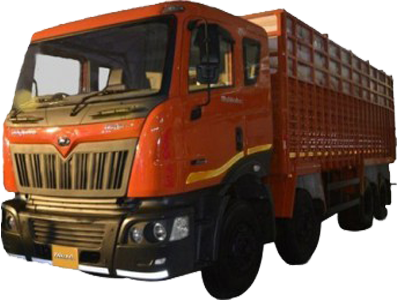 Mahindra Blazo 37-T
Best-in-class fuel efficiency, a powerful engine, comfortable cabin and sturdy chassis – the Blazo 37 boasts of all these features. But what really makes this powerhouse standout, is its load carrying capacity; which is the highest in its category. Allowing you to transport any load, from steel to cement, with the least amount of effort and stress.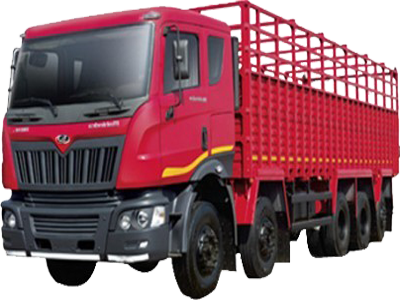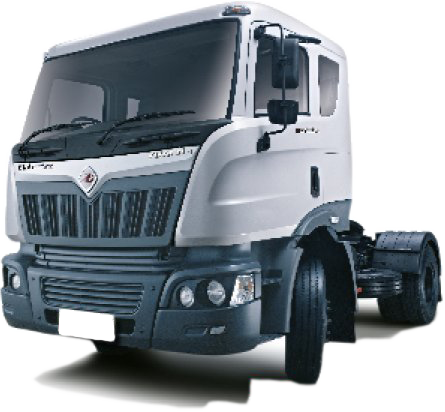 Mahindra Blazo 35-T
The rugged Blazo 35 brings power-packed performance along with comfortable drives. Designed and developed for Indian roads and load conditions, it comes with the extremely powerful, fuel-efficient and reliable m-POWER 210 engine. Its rigorously tested aggregates mean you have minimum downtime. The vehicle also puts an end to painful long hauls with its ergonomically designed cabin. Allowing the Blazo 35 to comfortably go anywhere, carrying just about anything.
Mahindra Blazo 40-T
Two things the Blazo 40-T is guaranteed to deliver – sturdiness and low maintenance bills. Mainly because the vehicle has been designed to endure any wear and tear. This leads to fewer servicing needs and downtime. Which in turn results in low overhead charges. Also the vehicle's change intervals are longer. This makes the Blazo 40-T go further with great efficiency, ensuring lower running costs every time. In short, this is a truck that can take any business to great heights.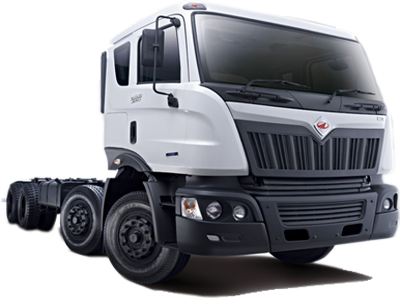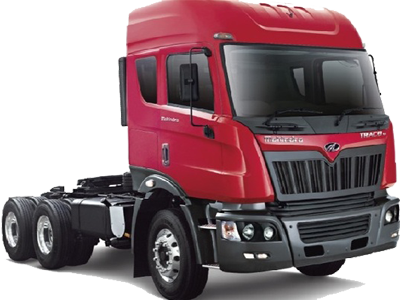 Mahindra Blazo 49-T
The Blazo 49 tractor trailer which will be available with 210 and 260 hp powerful MPOWER engines features a best-in-class cabin designed for longer hauls. It is specially crafted for load applications like containerized heavy duty loads, cement, steel, over-dimensional cargo and heavy machinery, amongst others, and to deliver superior fuel efficiency without compromising on power and ruggedness.
Mahindra Blazo 25-T
The Blazo 25-T is made to endure the harshest of terrains while carrying the heaviest of loads. Heavy-duty aggregates, a solid braking system and trustworthy axles, make sure that this tipper can withstand anything that the roads may throw its way. A stronger chassis (25% stronger than the competition) enables it to operate in critical areas with longer life. Truly, the TORRO 25-T is a great combination of low maintenance, low running costs and high-performance.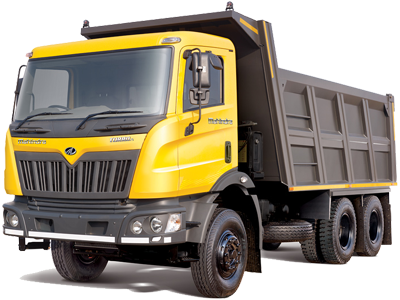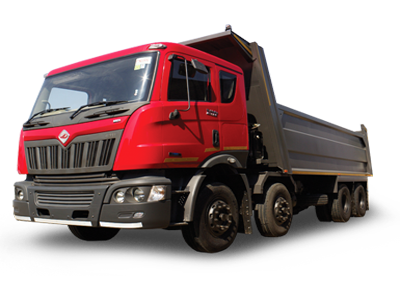 Mahindra Blazo 31-T
7.2 litre, high torque, low RPM engine
mPOWER FuelSmart engine with multimode switches
Guaranteed better fuel efficiency
Driver Information System
Next-Gen features and improved cabin for better productivity
Better payload capacity